The Apache Creek Fiddlers played at the Rialto Theater on October 8, 2022 from 7pm – 9pm. We had a great turnout to listen to this amazingly talented family.
The Apache Creek Fiddlers are an acoustic family band from Rye, CO who perform throughout Southern Colorado, New Mexico, Kansas, Texas and Oklahoma.
The award-winning teen Fiddlers play old-fashioned Americana, influenced by Texas-style fiddling, the Western Swing of Bob Wills', and old classic country.
Their lead fiddler, Eavia Ryan, just garnered first place in the Walnut Valley Bluegrass Festival's old-time fiddle contest in Winfield, Kansas. The fiddlers are accompanied by their singer-guitarist father, and their brother on stand-up bass.
Festival attendance was around 15,000 for the 4 day festival and came lfrom around the world. Most who attend play an instrument of some kind and jams could be heard all weekend.. There were national competitions for flat-picking and finger-picking guitar, banjo, mandolin, autoharp, and dulcimer.
Eavia received the first place prize of a beautiful five-string carbon fiber violin from Luis & Clark. A sophomore at CSU-Pueblo, the versatile young musician also plays viola for the Pueblo Symphony Orchestra and is a student of the 1996 National Young Adult Fiddle Champion – Chris Daring of Pueblo, CO. In addition to the family group Eavia also fiddles with Westrock and cowboy singer/songwriter Kurt Corsair.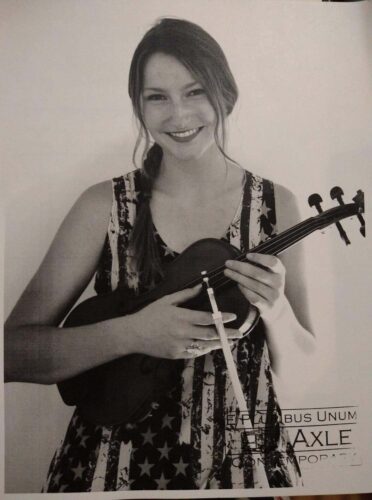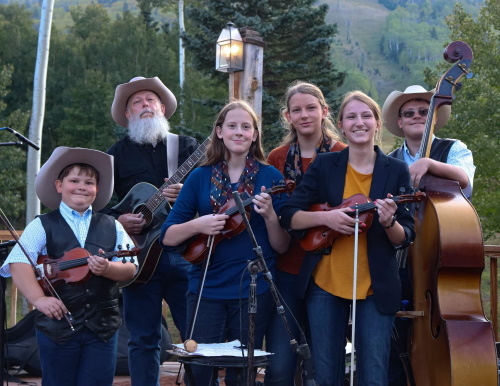 This event was sponsored by Florence/Eastern Fremont County Rotary, Canon Signature Mortgage, and Berkshire Hathaway Home Services.
Click Here to See a YouTube Video
Apache Creek Fiddlers Facebook Page
Thanks to Waggener Brake & Auto Repair in Canon City for sponsoring the music license for the Rialto.