"Count Dracula" was presented by The Rialto Players at the Rialto Theater Nov 15-24, 2019. The dark comedy featured a very talented cast and fabulous set design.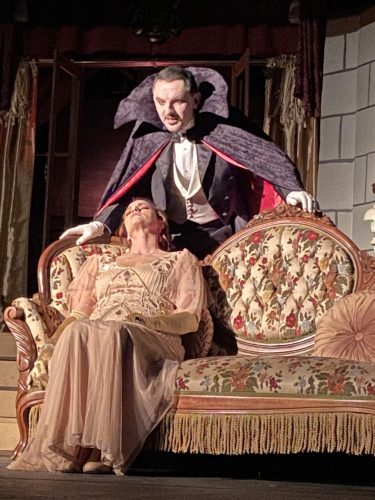 CAST LIST
Sybil Seward: Jennifer Bowers
Hennessey: Diane Rucker
Dr. Arthur Seward: Keegan Flaugh
Renfield: James Ellis
Wesley: RC Wilkins
Jonathan Harker: Brandon Hyatt
Mina Murray: Michelle Hyatt
Count Dracula: Corey Herman
Heinrich Van Helsing: Anne Sheridan
PRODUCTION TEAM
Director: RC Wilkins
Asst Director: Michelle Hyatt
Stage Manager: Brandon Hyatt
Wardrobe Master: Tom Mongan
Asst Costume Designer: Kathy Kennedy
Prop Master: Catherine Thomas
Lighting: Hannah Rhodes-Hyatt
Set and Sound Designer: RC Wilkins
Special Effect Designers: Derick Brady & Joe Lippis
Make-Up and Hair: Joanne Hasenauer
STAGE CREW
Ian Solano, Kayona Brozek, Amber Darnell, Evan Heard
Count Dracula Synopsis
In Mr. Tiller's comedic adaptation of Bram Stoker's vampire legend, Dracula, as there has been a new Count that has moved into a remote neighborhood just north of London.
The overly friendly sister, to the director of the local mental institution, invites him to dinner at her family's combination home and 'Asylum for the Insane".
There, Count Dracula meets Mina, Dr. Seward's beautiful and virtuous young ward. As quick as a flap of a bat's wing, the evil Count sees Mina not only as a tasty morsel but also as a potential bride.
Dr. Arthur Seward cares for his residents, including the bug-eating Renfield, while agonizing over Mina's mysterious illness was contracted at the same time Count Dracula took up residence in a castle neighboring the asylum.
The other characters — Hennessey & Wesley, attendants at the asylum, Arthur Seward's sister Sybil Seward, Jonathan Harker, the long-suffering fiancé, Dutch researcher & Vampire Hunter, Heinrich Van Helsing — gradually realize what is in their midst.
"Count Dracula" is presented by special arrangement with Samuel French, Inc., a Concord Theatricals Company.