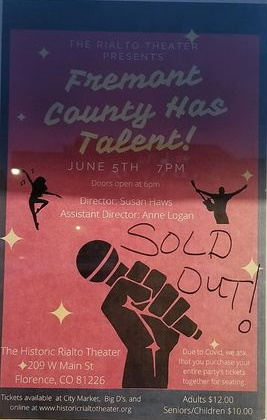 Over 20 acts were featured in this rich variety showcase of local talent.
The performance played to a SOLD OUT house! The performers received a rousing response.
Sue Haws was Director, and Anne Logan was Assistant Director.
Show Line-Up:
Act I
"The Queenagers"-Day trip to the Seaside, written by Sue Haws and Anne logan, performed by Sue Haws, Anne Logan, and JoAnn Ewing
"Black Magic"-Dance Solo performed by Madyson Porter
"New York, New York"-performed by John Clark
"Piano Solo"-performed by Joyce Whatley
"I Wanna Dance With Somebody"-Dance duet performed by Brandon Garcia and Kennedy Graham
"The Wet Mountaineers"-TJ Aitken, Barbara Clark, and John Clark, performed original music written by TJ Aitken
"Poker Face"-Dance performed by Alexus Turner, Mischa Romero, and Chelsey Smith
"Cowboy Poet"-Lisa Quinlan reading her original work
"The Rose"-performed by Misty Smith
"Friend Like Me"-Dance performed by Brandon Garcia, Madison Weaver, Sage Leck, and Ariana Lopez
"Tribute"-Written and performed by Paul-David Almond
"Sinister"-Dance ensemble performed by Trevanni Guerra, Peyton King, Madison Remillard, Talya Fisher, Bella Brene, and Kayden Gouty
Act II
"Classical Piano"-Performed by Kazuyo Shingleton
"Tik Tok"-Dance duet choreographed and performed by Aris Johring and Olivia Norton
"Lady Dark"-Anne Logan reading Dylan Thomas's "Do Not Go Gently Into That Dark Night"
"Original Composition"-Kaila Kobow performing an original composition
"Popular"-From Broadway's "Wicked", performed by Haley "Basil" Henry
"I Enjoy Being a Girl"-Dance parody performed by Trevanni Guerra and Braylon Seidling
"Cello Duet"-A montage of 8 songs performed by Fred and Emily Schmid
"Funky Bunch"-Dance performed by Brandon Garcia, Lydia Ilomaki, Dimi Gates, Ariana Lopez, and Sage Leck
"Imagine"-Sung by JoAnn Ewing
"Bless the Broken Road"-Sung by Madalyn LeRoux
"You Are The Reason"-Dance solo performed by Trevanni Guerra
---
We want to thank all the performers, volunteers, Emcee Tay Jeffords of KRLN Radio, and especially YOU the audience. We couldn't do this without you.
We also want to thank the City of Florence for their $5000 grant to allow us to purchase sanitization equipment.
Finally, a Very Special Thanks to Terry Waggener of Waggener Brake and Auto Repair for sponsoring our music licensing for this year.