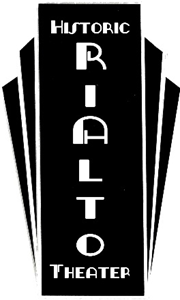 Rialto Theater
209 W. Main Street
Florence, CO 81226
July 7, 2018
Dear Friend of the Rialto Theater:
Lots of great things have been happening at the Rialto Theater in Florence, Colorado lately! We want to keep our donors and friends like you informed of the progress we've made with our historic theater. Below please find the latest since our last newsletter, and images from our latest production Savannah Sipping Society.
Fundraising News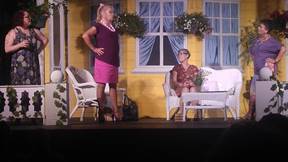 The Florence Chamber of Commerce and the Rialto Theater held a fun New Year's Eve party as a fundraiser for both organizations. The band Deja Blues played live music. We raised $922 in concession sales and received $1,918 from the Chamber.
Florence high school students Jacob Henry, Colton Walker, Isabel Yeager and Carrington Duclos created a film for their senior project as a contribution to the community.  They raised $75.00 for the Rialto Theater.
$6,000 was donated anonymously toward construction of the new ticket booth and two sets of entry doors.
Board member Donna Murphy generously donated $1,000 to our theater. Thanks so much, Donna!
Friend of the Rialto Beryl Baker donated $3,550 to help pay for the Rialto's permanent liquor license.  Thank you very much, Beryl!
River Valley Plumbing, a Florence company, donated a portion of their charges for reconfiguring the plumbing for our concessions area.
The directors of the Florence High School play "12 Too Many", Talia Smith and LaNae Terrian, raised $3,805 from their play specifically for the benefit of the Rialto Theater. We can't thank them enough!
Donna Murphy recently presented a check for $500 which she donated in honor of Lynn Greenlee.  Thanks again, Donna!
Construction News
A number of projects have been completed since our last newsletter.  They are:
Our board cleaned and gave the Rialto Theater façade a fresh coat of paint. The front windows were glazed as well.
Architect Robert Armon provided construction drawings for the creation of a new ticket booth and two double sets of entrance doors on the front of the building. Bergeman Brothers Construction Company completed this project in early spring of this year, and the front of the Rialto Theater looks great! It is a real attention getter!
Board members Larry Baker and Rich Burleson, along with others, we're instrumental in renovating the theater's concession area in preparation for the granting of a permanent liquor license. Sid Dardin, Fremont County Health Inspector, recently gave us the green light to use this space to serve our theater patrons. Thank you Sid!
Special stage lighting was recently purchased to enhance our most recent play "Savannah Sipping Society", as well as future theatrical performances.
Air conditioning units, located on the roof of the theater, were recently inspected and some of the units were found to be seriously defective. These units had been installed a number of years ago but had not been used until recently. The board approved $7,000 to repair the most critical units cooling the theater space.
Current focus is on completing painting and cosmetic work in the front entryway, front lobby, and hallway connecting to the restrooms. Once the board completes these areas, we will focus on re-finishing the theater floor and walls. The floor will need to be sanded, patched and prepped for paint.
Two display cases advertising upcoming shows and events will be added to the front of the theater on either side of the ticket booth, providing the theater with a more professional presentation.
Board News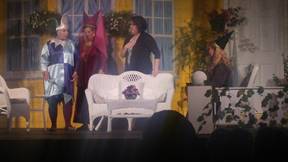 The board continues to develop its long-range business plan. We have been working with business consultant Alexis Lee with the Southern Colorado Small Business Development Center who has been very helpful in steering our planning efforts.
Board Members Ron Hinkle and Todd Williams continue to provide PowerPoint presentations to interested groups and organizations. One recent presentation was to members of New Neighbors.
R.C. Wilkins, Director of the Rialto Players, was unanimously elected to the Board of Directors. R.C. comes with a ton of theater experience and we are very pleased to have his expertise.
Kathy Madonna, local business woman with lots of ties to distant relatives who lived in the area, was unanimously elected to the Board of Directors. Kathy just recently performed the character Marla Fae in our recent production "Savannah Sipping Society". She was a hoot!
At a meeting in March, the Rialto Theater Board decided to expand its membership from nine board members to eleven.
During the board's annual meeting, new board member and long-time resident of Florence, Rich Burleson, was elected president of the board. Larry Baker was elected vice-president.  Kathy Seidling was re-elected as treasurer, and Marty Burleson was re-elected as secretary. Ron Hinkle stepped down as president, and Todd Williams stepped down as vice president. Thanks to both Ron and Todd for their dedicated service to our theater and its board.
Board member Ken Trusty recently resigned from the board. We can't thank Ken enough for all of his contributions!
Theater Events News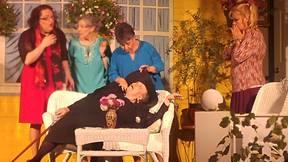 Theater Director W.C. Wilkins developed membership guidelines for individuals desiring to join the newly formed Rialto Players. The Players participate in productions and assist where needed.
The play "Exit Laughing", directed by R.C. Wilkins, was performed on February 16, 17, 18, 23, 24, and 25. It was a huge success!
A talent show "Fremont County has Talent" took place on Saturday, April 28th of this year. With 18 different acts and over 200 in attendance, it was a grand success!
Frog Dawg, local producer of concerts and entertainment, held three concerts in our theater this spring and early summer.
R.C. Wilkins directed the play "Savannah Sipping Society". The performances took place on June 22,23,24,29, 30 and July 1 and was a smashing success!
Upcoming Events
Tom Bruno, owner of Papa's Pizza in Florence, has written a play titled "The Valedictorian and the Sorcerer". The play will be performed on August 31, September 1, 2, 7, 8 and 9.
The Rialto Theater will host the Florence Pioneer Day Royalty Crowning on September 14th.
The Rialto Theater will participate in the Florence Pioneer Day Parade on September 15th.
Rialto Players, under the direction of R.C. Wilkins, will perform "Vintage Hitchcock" On October 21, 22, 23, 28, 29, and 30.
The Rialto Players, under the direction of R.C. Wilkins, will perform "Little Women" December 21, 22, 23, 28, 29, 30.
A New Year's Eve celebration will take place on December 31. It will be lots of fun!
Other News
The Pueblo Paranormal Initiative was held last fall. This group investigates ghosts and came up with some very interesting findings.
The Rialto Theater Board of Directors submitted an application for a permanent liquor license. The Florence City Council recently approved our application. This will really help our theater generate more revenue while better serving our patrons.
Deborah Morton is the theater's new website administrator. She has lots of great ideas to make the website more interesting and more user-friendly.
Members of the Rialto Players participated in this year's Canon City Blossom Parade, as well as Florence's 4th of July Parade.
Thomas Mongan joined the Rialto Players this year and has been instrumental in creating costume designs for our actors and assisting theater director R.C. Wilkins where needed.  Thanks so much, Tom!
How can YOU help?
Please consider making a generous donation to FACT- Rialto Theater. Your contribution of $200 or more will qualify for a Colorado State tax credit of 25%, and it will really help us complete the Rialto Theater Renovation project.
King Soopers/City Market card holders can donate to FACT (Florence Architectural and Cultural Traditions- AKA Rialto Theater). Just call the number on the back of your card and select "Community Care". You will then receive instructions on how to select FACT to receive your community percentage.
If you shop on Amazon, please go to www.smile.amazon.com and sign up for a small piece of your purchases to go to FACT- Rialto Theater.
Please consider becoming a "Friend of the Rialto". For a minimum of $200 a year, or as little as $20 a month, you will become a Friend of the Rialto. This can be a recurring annual donation or an automatic monthly withdrawal from your checking or savings account.
Keep up with the News!
You can regularly keep up with all of the news regarding the historic Rialto Theater by going to the following sites:
You can e-mail us at RialtoFACT@yahoo.com
As always, thanks so much for being an important part of the historic Rialto Theater!
Sincerely,
Rialto Theater Board of Directors
Rich Burleson– President,
Larry Baker– Vice President,
Kathy Seidling.-.Treasurer,  
Marty Burleson– Secretary,
Donna Murphy– Archives,
Steve Steele– Project Committee, 
Kathy Madonna,
Ron Hinkle,
Todd Williams,
R.C. Wilkins—Director, Rialto Players